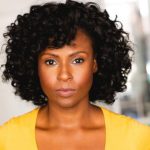 Khalilah Joi
Born in Thomasville, Georgia and raised in Hampton, Virginia, Khalilah Joi is a bonafide Southern girl–freshwater fishing, debutante balls and all. With aspirations of being a broadcast journalist, she attended The University of Virginia, where she received a bachelor's degree in English. After graduation, though, she chose The Studio Theater Acting Conservatory in Washington, D.C. over her acceptance to NYU's Graduate School of Journalism and hasn't looked back.
After a year on the east coast theater circuit, Khalilah drove across country to Los Angeles, where she has worked consistently in television, film, animation and theater. Some of her most notable roles include starring in three seasons of the hit digital series "Sexless," recurring roles on HBO's Emmy winning hit "Big Little Lies," and BET's "Being Mary Jane," and guest appearances on "S.W.A.T.," "Rosewood," and "The Good Doctor."
Khalilah's recent role as sexual assault victim Abby in the "Grey's Anatomy" episode "Silent All These Years," was one of the most talked about episodes of television in 2019 and earned Khalilah a coveted spot in Variety magazine's Emmy Contenders issue. The episode showcased her most nuanced, impactful on-screen performance to date.
On the heels of Grey's Anatomy, Joi recurred on the critically-acclaimed drama "Sorry For Your Loss" and starred in OWN's most watched film of 2019, "Baking Christmas." Up next, she will be recurring on the highly anticipated HBO Max show, "Made for Love."
During her career, Khalilah has been fortunate to receive a number of awards and acknowledgments for her work. These include winning Best Actress at the American Black Film Festival, winning the Best Supporting Actress SOFIE, (short film award,) for her performance in the critically acclaimed "Jonestown," winning the Grand Prize in ABC Entertainment Group's Digital Casting Competition, and winning Best Female Newcomer for her work in "Sexless".
Approaching each new opportunity with gratitude, passion and humility, Khalilah's greatest hope is to continue to be fearless and authentic in her storytelling and to have the privilege of entertaining for many years to come.